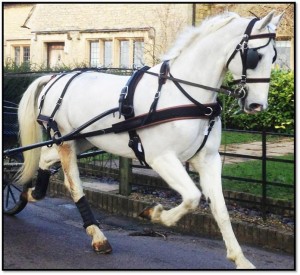 WebZ is a completely new harness designed for all types of leisure and competition driving. Affordable, comfortable and versatile.
WebZ strapping is purpose woven to give just the right amount of thickness to feel sturdy and reliable, yet it is pliable and very easy to adjust in all weather conditions. High quality stainless steel buckles and fittings are designed to compliment the webbing and give a smart low maintenance appearance.
All bearing surfaces are lined with attractive tan easy-clean PVC linings for a distinctive appearance and character.
Sturdy yet pliable two and four ply PP webbings, woven especially for lightness and strength.
Reinforced facings on hard working straps:  Girth points, backband, tugs and trace points.
High quality stainless steel buckles and fittings.
Sprung steel tree.
Quick release tugs.
Textured PVC padded linings on breastplate, wither, saddle, girth, breeching seat, dock, headpiece and noseband.
Combo style breastplate which can be used for either single or pair driving.
Traces adjustable for length at the vehicle end.
Well shaped blinkers for good eye clearance.
Supergrip reins.
Supplied in harness bag with distinctive brown trim
Single Pony £510
Single Cob £531
Single Full £531
Single X Full £547
Pony Pair £998
Cob Pair £1,033
Full Size Pair £1,033
X Full Size Pair £1068